ROFL... Birx
Just now....
She just stated what I've been saying since the Diamond Princess.
Either (1) R0 is wrong (e.g. as I've postulated, perhaps -- likely -- a trinominal) or (2) the virus has a very high silent attack rate, was here for months before we knew it, and the cases it generated were in the noise of ordinary flu with negative tests, which are endemic every year.
Or both.
Literally since Diamond Princess was quarantined I've stated one or both had to be true. I've pointed it out every single day in podcasts and Tickers. It was obvious from the experience on the ship. It was also obvious when Wuhan unlocked and didn't have an instant explosion in new cases. It was obvious when South Korea was able to get the virus under control. It was obvious when Japan didn't instantly detonate when they didn't lock anything down.
Sweet Jesus... now Birx has flipped, along with Fauci.
WE SHUT DOWN THE NATION WITHOUT EVIDENCE AND WE STILL HAVE GRANDSTANDING MAYORS AND GOVERNORS TRYING TO OUT-STUPID EACH OTHER!
Yes, this bug is bad, especially if you're already medically compromised. But then again so is pneumonia from any source in such an individual, and the "regular" flu nails plenty of people with those sorts of conditions all the time -- to the tune of tens of thousands of people a year in the United States.
So what -- you mean when your chief scary model dude says "aw ****, whack a few zeros -- like three -- off my prognosticated death rate" you might have a problem trying to continue defending destroying the economy on purpose?
GO BACK TO WORK NOW.
If you're at high risk then self-isolate. Anything that can kill me at a 1 in 10 rate I'll take a good crack at trying to avoid through my own personal behavior. Figure out if you can use prophylaxis and, if you choose, be the guinea pig to see if it works. The data (look at malarial nations .vs. non-malarial ones for transmission rates) says it probably does, but that's an anecdote. Your ass, your choice.
As for both Fauci and Birx, neither of whom has apologized for making statements and setting policy that has likely destroyed a quarter to a half of all small-business restaurants and bars, which will never re-open, while notching three million unemployed in the last week alone and ruining pension and retirement accounts that millions of people rely on?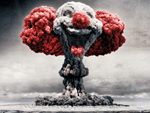 and, from all those workers and destroyed small business owners:


---