This week, and next, I am going to be unable to post daily Tickers.
In fact, this week you'll be lucky to get a Technical out of me on a daily basis, and next week, forget it - I'm on vacation - and while I will have Internet access, I have zero intention of actually using it with any sort of regularity.
I may be able to do a weekend update like this next weekend.
Maybe.
This last week was the week of bad things if you were long equities. Not only did the financials continue to get pounded, but the rollover I've been seeing start in Tech came to fruition, wiping out a huge part of the year's gains - in one week.
This is likely to continue
.
In addition we finally got some attention being paid to Sir Bucky. He's in trouble. We should have had attention paid to this months ago, but heh, you never can count on the "useful idiots" in the mainstream media to pay attention until
after
the horses are all out of the barn. Witness their terrific performance during the Tech Wreck of 2000.
What's got their attention now with Sir Bucks-a-Little? This base-jumping chart: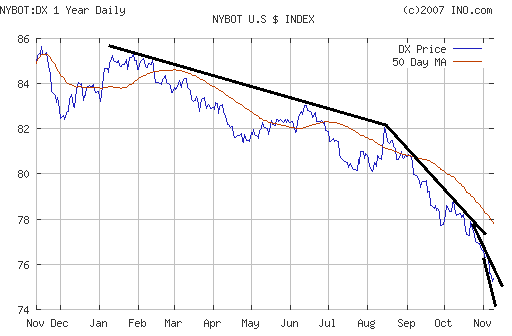 What is there to say about this other than "oh God"?
Despite protests to the contrary, The Fed really is responsible for this. Causation might not be found in correlation, but after the third or fourth event, can you really keep ignoring the evidence right in front of your face? I think not.
Like all other things supply and demand sets the price of a Buck in the world. And right now, there is too much supply and too little demand. The price falls until equilibrium is re-established.
This is the fallacy in the Bernanke claim that "The Treasury is the only one who speaks to the dollar."
Horsecrap!
This, coming from a man who claims to have a PhD in economics? Is that pronounced "Piled Higher and Deeper"?
BenDover certainly understands simple supply and demand, and he, with his cohorts at The Fed, have a big knob they can twist to adjust supply. The "Fed Funds Target" is the most visible indicator, but it is in fact not the knob - the knob is found in the TOMO and POMO operations (open market operations, temporary and permanent) that control how much liquidity The Fed allows to slosh around in the system.
By draining that pool - leaving the slosh pit dry - supply would be removed and, at a given level of demand - the price would rise.
BenDover cannot "stimulate demand" into a crashing economic landscape. It is simply not possible. This is where BenDover gets it all wrong in his "thesis" that The Depression could have been averted if The Fed had only opened the spigot wider.
See, if people refuse to trust one another because they believe (or worse, know) that the other guy is hiding something nasty off their books where it can't be seen, and thus can't quantify the risk of an explosion at an inopportune time, then there is nothing you can do to "stimulate" the economy.
You can try to blow (another) bubble but in the face of mistrust it fails because the "hole in the other side" is that lack of trust. Without it the air leaks out faster than you can pump it in.
Severe economic disruptions - events outside of the normal business cycle - cannot be stopped once they give birth.
The opportunity to deal with this and prevent it happened back when Enron imploded - regulators correctly pinpointed the use of "off balance sheet" transactions, such as the Enron "barge deals", as wildly-improper abuses of accounting which led to the "rapid disassembly" of the Enron empire.
But that opportunity was squandered post-Enron, and the big Wall Street firms sauntered down the road of off-balance-sheet conduits, SIVs, and "credit enhancement" - all, in my view, active acts of fraud.
Now the gig is up.
There are really only two paths forward for Ben, Treasury and company:
They can force these institutions to take their marks now and either formally cut all of these "SIVs" and "Conduits" loose - forever - or take them all back onto their balance sheets. At the same time they can refuse to allow these shenanigans in the future, with the threat of immediate regulatory actions including seizures of the banks involved should it occur in the future. In addition, they can require that "credit scoring" of debt instruments be rendered invalid unless paid for by the buyer, and insist that Reg-FD apply to all such offerings. Finally, they can drain the liquidity pool by raising the Fed Funds target and defending it as necessary, starting with an immediate, intra-meeting reversal of the last cut - or a public statement that come December, it will be reversed. This will rain down asteroids upon Wall Street, but while it will punch holes in many of these firms' balance sheets it will likely not kill most of them.
They can try to continue to twist the liquidity knob. But, without cleaning out the trash nobody will step up and do anything useful with the liquidity. It will slosh and sit, and absent demand, excess supply will only further depress The Dollar. Our economy will go in the toilet as punishing credit contraction and import prices continue to ramp. Real purchasing power for Americans will contract by 50% or more over the next couple of years.
There comes a point where the rest of the world no longer is willing to play along with this fraudulent scheme, as their US investments depreciate by the day and their ability to export goods to us to finance their investments disappear.
Import price ramps - even from "pegged" nations like China - are already apparent. This last month's data, printed last week, confirmed what is now a six month trend of rapidly-accelerating import price inflation.
This trend will continue until and unless we address the confidence and excess liquidity problems!
Trichet and others are now warning of a potential economic war if our nation does not stop the shenanigans immediately.
They are right - and we are wrong - on this one. It is time for The Administration to get off its ass and act - put in place real reforms, force marks to market and get rid of the SIV-cum-AIDS nonsense.
Our financial system must have its integrity restored.
The Petition is a part of that.
But it is only a part.
We, as Americans, must force politicians to answer to this problem. Neither of the political parties want to talk about it - during the last two debates I wanted there was the inevitable attempt to either brush off nearly-$100 a barrel oil or blame it on "Bush-and-company."
Both approaches are wrong.
The simple fact of the matter is that until and unless America chooses to bring out its trash in the financial markets and force those institutions who tried to hide risk to bring it back on their balance sheets and appropriately account for it, the slide will continue.
At some point - perhaps in the next few days or weeks - that slide will truly gain legs.
When it does, you will see a selloff of breathtaking proportions across both equities and bonds as the "hot money" decides that while the door is very small, and there are many in the theatre, with flames licking at the curtains they can either try to get out and possibly die or certainly die by staying put.
That event, if and when it comes, will be truly something to behold - from a distance.
Like a nuclear blast, it will be awe-inspiring - so long as you're not too close.