2013-02-27 08:49 by
Karl Denninger
in
Editorial
, 0 references

An Argument For Something Rather Uncivil
I'm not one to normally excuse (or more) someone doing this sort of thing, but in this case I am forced by the apparent facts to consider making an exception.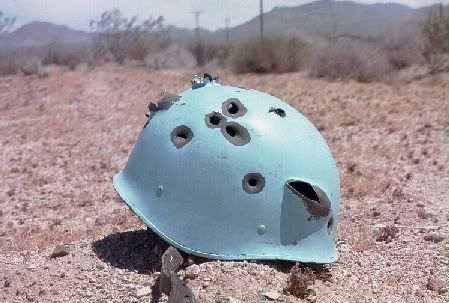 As award-winning journalist Jonathan Katz established in a bombshell chapter of his recent book, The Big Truck That Went By, a base for Nepalese U.N. peacekeepers next to the Artibonite River was the origin of the cholera epidemic that swept through Haiti in October of 2010. There had been no reported cases of cholera in Haiti for a century; now, the disease is endemic, and it is projected to kill as many as 1,000 people a year until it is eradicated, according to Brian Concannon, director of the Institute for Justice and Democracy in Haiti and a lawyer representing Haitian claimants against the U.N. Former president Bill Clinton, the U.N.'s special envoy for Haiti, has admitted that U.N. peacekeepers were responsible for the outbreak. But Katz, the AP's Haiti correspondent in the years after the country's devastating 2010 earthquake, was at the receiving end of a bungled U.N. cover-up of the epidemic's cause. The World Body actively discouraged and even impeded journalists and public health investigators attempting to trace the causes of the pestilence. The U.N. never admitted responsibility, even as a U.N. commissioned-report left little room for doubt (the entire saga is recounted in Katz's chapter, which should be read in full).
Every organization and group makes mistakes.
When that organization or body attempts to intentionally disrupt those who are searching for the truth and then hides behind legal structures that claim immunity for acts that are akin to intentional disregard for basic sanitation known to spread serious disease that causes death, that is in fact homicide by gross negligence.
There are multiple boxes that guard both freedom and justice -- and a just people use them in order. They are:
The soapbox.
The ballot box.
The jury box.
And finally, if all other means of redress are obstructed by those who would or do practice evil, the cartridge box.
If the UN refuses to allow The Jury Box to do its job in a just society then it leaves only one means of redress available to the people who are dying as a consequence of its acts, and has only itself to blame if the people decide to avail themselves of the only remaining means of stopping their felony misconduct.
The UN avers that it exists for the purpose of (among other things) advancing human dignity. Exactly how dignified is dumping raw sewage into drinking water supplies and spreading disease? Exactly how dignified is it to send workers into a nation with a communicable disease and then spread it through misconduct drawn from the desire to not spend money? (It's much cheaper to dump sewage than properly treat it, you see.)
The United States should have expelled this rogue international agency decades ago, and I maintain that we're way behind the curve in terms of doing so.
This is not the first time the UN and its "peacekeepers" have been accused of serious felony. Allegations of sexual assault and other crimes have been leveled against the UN and its agents for decades, and few if any have been resolved in a form that anyone can argue approaches justice.
But if we continue to refuse to eject these clowns from the United States, say much less continue to fund them, and if we then further permit the UN to hide behind claimed immunities when agents under their auspices spread deadly disease (say much less some of the other more-direct assaults they have been accused of) they, and we, have no right to complain when their distinctive blue helmets have a few additional holes spontaneously appear in them.