Day #3 dawns and the fear-mongers are still out demanding gun bans. Howard Dean was on CNBS this morning screaming about it once again, while others were talking about "technology solutions" (such as fingerprint interlocks on firearms.)
All are missing the point.
The point is mental illness.
The second, and related, point is this: what has changed in the last 30 years -- and most-notably, in the last ten?
Mental illness is nothing new. Neither is homicide. Let's deal first with homicide.
About 17,000 people were murdered in 2009, according to the CDC. That's 46 people, more or less, every single day, or more than one Newtown daily.
The ugly underbelly of this reality is that our drug war kills the majority of the homicide victims every year, when you get analytical about it. We deny people who transact in certain things access to the courts to settle their disputes and so they turn to violence, because the dispute doesn't go away -- only the lawful means to settle it. And we as a people don't give a damn about it in the general sense because (1) those "evil drug people" in some way "deserved it" and (2) they're black.
Go ahead and argue otherwise if you'd like, but that's what the statistics tell us -- more people die every day as a direct and indirect consequence of the drug war than were killed last week in Newtown, and most of the victims and perpetrators are young black men.
It gets worse. Our government not only indirectly is responsible for this due to its prosecution of that drug war in some cases it's directly responsible for arming the drug lords. The dystopia and ridiculous nature of a government proclaiming that "we must do something about guns" while it in fact illegally armed Mexican drug lords should make your head explode.
We don't do that because this isn't really about either homicide or guns. It only becomes about them when our "leaders" are able to seize upon the right people who get killed -- the "right" people being the most cute and cuddly among Americans. Young black men need not apply.
Mayor Bloomberg screamed once again over the weekend about the nearly 50,000 people who will (on present trajectories) be murdered over the next four years, but he, like Obama, is dancing in the blood of children.
The Government could stop more than half of the murders were it to demand that we cut the crap with the drug war and thus give a damn about young black men who are both the overwhelming perpetrators and victims of these crimes.
The fact is that Mayor Bloomberg, President Obama, David Tepper (who is as I write this on CNBC) and others screaming about this issue don't give a good damn about the real causes of homicide in this nation and never have.
All they're really interested in is scoring political points -- nothing more or less.
It is especially outrageous to hear Obama, who is black, pontificate on this point.
When it comes to mass-shootings, however, the issue is different.
There the issue -- and the answer -- lies in mental illness.
What we need to talk about is this:
What has changed over the last 30 years?
Do realize that being crazy isn't new. And today, with the NICS / "Brady Law" and similar, guns are far more restricted than they were 30 years or more ago. It was not that long ago that you could buy a gun out of the Sears Catalog and have it mailed to your home! The Gun Control Act of 1968 ended that, but there were lots of crazy people in 1968.
What has changed?
A few things, and if we want to have a real impact on the odds of another Newtown happening we need to address them. We need to cut the crap and talk about what has actually changed, what we, the people, have done to contribute to potentiating violence among the crazy, and what we're going to do to change those things.
We must first accept there is no restriction on the devices that can kill if someone is willing to commit murder without remorse. The potential selection of devices include cars, SUVs, airplanes, gasoline, common household chemicals including bleach and drain cleaner, matches, knives and... of course... guns. In the instant case the assailant murdered his mother to acquire the guns after, it is reported, he tried to buy one legally and was told he'd have to wait 2 weeks.
But he wanted to murder now, not in 2 weeks, so he began his count of murders with his mom.
We can up-armor our schools to try to defend against this, but do you want your kids to go to prison every morning, or to school? Whether you send your kids to school in a public or private educational institution, or if you homeschool, do you want them -- and if you homeschool you -- to be in a place that looks like the inside of a jail? Is that acceptable to you? What are you teaching your kids -- that every gathering of people, whether it be for a football game or simply to play out on the playground, must be behind a razor-wire-topped solid barricade lest some nutjob murder everyone there?
Is that an acceptable lesson to teach your children? I went utterly ballistic when the first lesson my daughter was taught was socialism on her first day of Kindergarten -- she was told to turn over the copious set of supplies she had brought to school to a big pile so "everyone who needed a pencil could have one."
From each according to his ability, to each according their need -- KARL MARX.
For five year olds? Bull**** said I.
If you want to live in that world -- or one where your kids are brought up to consider an education congruent with being in the gulag -- then you're free to do so.
I refuse and if you consent I assert that you are crazy.
I support people carrying concealed -- including teachers and staff who are willing to and want to -- because unlike many I accept that no matter what we do we cannot have perfect defenses and that the last line of defense when someone has decided to commit murder is the ability to stop the assault. It's not a perfect line of defense but at that instant in time it's either that or nothing, and I believe that a fighting chance at life is preferable to certain death.
But let's leave "last resorts" aside and again return to the salient question:
What has changed?
Are there more homicidal maniacs than there were 30 years ago?
Maybe.
If there are, did we create them?
Are we Frankenstein's father?
That's uncomfortable to contemplate, isn't it?
Well, we better contemplate it, because the answer is probably "yes" -- twice.
Are we creating some of the mania with our media affliction -- all the violence we see every day, fantasy or otherwise? Maybe. But you're reading missives from a guy who grew up watching someone blow up, shoot, or otherwise destroy someone else, on average, every 30 seconds on TeeVee when I was a kid. Bugs Bunny and The Roadrunner anyone? Then we went outside and played Cowboys and Indians, and most of the time the Indians were the ones getting shot. When we got a bit older we graduated to shooting at each other with bottle rockets fired out of mailing tubes, using trash can lids as shields. I had a Daisy lever-action BB gun that my grandfather gave me that he retrieved from the rafters in his basement, then a Crossman 760 BB/pellet rifle. My basement was riddled with punched paper.
But none of us ever seriously contemplated grabbing a real gun and murdering someone (or a lot of someones), never mind that I knew where an old (and presumably working) revolver was (in my Aunt Marg's dresser "secret compartment.") If I ever really wanted to do it, I had access to what was necessary to do it.
From about the age of 10 onward -- and I never told an adult that I knew where that gun was.
But I wasn't stuffed full of drugs.
Today, far too many of our kids are, and the correlation is clear.
Correlation doesn't show causation but it damn well ought to make you sit up and take notice. Especially when the notice comes in the form of a label on the bottle itself.
And in this case it does.
Simply put I assert that we need to stop drugging kids, except in extreme cases, and in those extreme cases we need to do it under strict supervision.
What is strict supervision? It's not what we're doing now. And if you think this is some sort of rant, well, how about if you argue with the label instead of with me?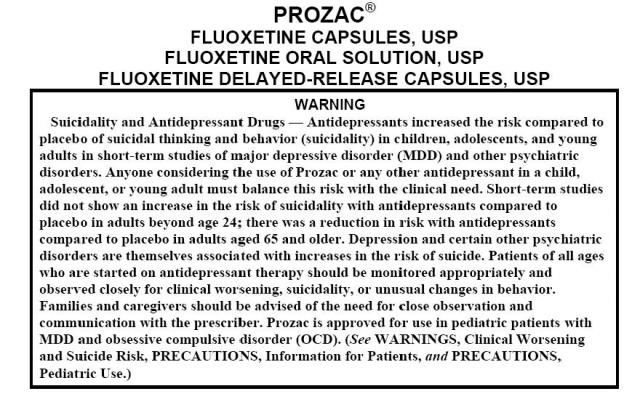 Is that clear enough? How different, incidentally, is suicide from homicide?
The only difference is the target of the act, not the act itself.
Who, by and large, has committed these acts of mass-violence?
Think about it.
We do not (yet) know if the alleged perpetrator of this specific assault was on one or more drugs in this category, but we do know that historically this has been the case for those who have gone nuts and committed these sorts of offenses.
If I start giving away cans of gasoline to people who are known to be firebugs, should I be surprised when some of them are unable to resist the temptation to use them to commit arson instead of mowing their lawn?
Mental illness is serious. But it's also not new.
What is new is drugging everyone who comes into a doctor's office with anything that they can prescribe a pill for, especially when it comes to young people. We substitute doping kids for parenting, we pretend that we can "integrate" or "mainstream" kids who shouldn't be in classrooms with everyone else (for their good as well as to prevent them from disrupting the education of everyone else who is there to learn) and at the first sign of trouble we reach for the pill bottle and then expect a teen or young adult to self-report symptoms that by their nature will mark the person as nuts, and they know it.
I can't prove that these drugs and their prevalence in children, adolescents and young adults are the causative factor in these events. But I have far more correlative evidence that they are in fact implicated than anyone who wants to ban guns ever will that firearms are "the cause", or that banning any particular subset of them will result in any meaningful change.
So how about this for a start:
Immediate revocation of prescriptions for

all

psychotropic substances, including but not limited to SSRIs, outside of psychiatric practice for anyone under the age of 25. If there is a legitimate need for these drugs in youth, adolescents and young adults then confine their use to supervision under the care of a licensed psychiatrist.


Where such drugs

are

prescribed under psychiatric care insist on continual professional monitoring on a schedule of no less than once every two weeks. Simply put we know these drugs can potentiate dangerous shifts in mental state. There is only one way to monitor for that, and that's externally. Reliance on someone who is mentally compromised (which is why you prescribed the drug in the first place!) to initiate contact in the event of trouble is ridiculous.


Change the law. If you're under psychiatric care involving medication that has a black-box warning then

during that time

you should be inhibited from purchasing or owning firearms. This won't stop someone from acquiring them via illegal means (e.g. murdering his mother) but it will stop him from buying them in a gun store. At the same time this is a shift in our current policy -- currently such a disability is permanent and as such we do not impose disability where we arguably should. That's antiquated and ridiculous, especially when the disability is drug-induced and the drug in question requires a prescription. While this particular change would not have prevented the latest shooting it might have prevented some of the others.
There's an editorial in the WSJ that echoes much of this today that is, in my view, worth reading (subscription required.) Perhaps -- just perhaps -- rational voices are appearing to counter the ghoulish grave-dancing that Obama, Bloomberg and a few others have been committing over the last few days.