Oh boy......
First, economics. Housing starts down 6.1%. Building permits down 2.8%. On year-over-year, its over 20% - in both. Oh, and that does not include any of the fun August mortgage issues (that'll be next month!)
Yow.
Then this morning
Countrywide
drew down an entire $11.5b credit facility
!
"Countrywide Financial Corp., the largest U.S. mortgage lender, said on Thursday it is drawing down an entire $11.5 billion credit facility to bolster its liquidity as a shortage of credit weighs on the mortgage industry."
Oh oh. Is someone in trouble? I thought they had $50b in liquidity - so said their press release! Hmmmm....
Oh, and Moody's thwacked them with a
severe
downgrade across the board.
How do
you
spell "capital flight"?
Oh, and the regulators (at least in the EU)
are tired of the bull**** with the ratings agencies
. I know all about "barring the door after the horses have left" but.... at least its something:
"French President Nicolas Sarkozy and Europe's financial regulator called for a probe into Moody's Investors Service, Standard & Poor's and other ratings firms criticized for underestimating the risk of subprime debt."
I've only been calling for that now for, oh, six months. Nothing like a good old-fashioned market crash to wake up the politicians.
Then let's talk about Fitch. They put
all
second-lien (Helocs, etc) mortgage securities since 2005 under
negative ratings watch
.
ALL
. Read that yet? Good.
"Fitch Ratings has placed all classes of 58 U.S. RMBS subprime transactions backed by pools of closed-end second-liens (CES) on Rating Watch Negative. This action includes all classes from these transactions previously placed on Rating Watch Negative. The 58 transactions have an aggregate outstanding balance of approximately $12.1 billion. 35 of the transactions were originated in 2005, 22 were originated in 2006, and one this year. These transactions comprise the entirety of Fitchs rated portfolio of CES RMBS from those vintages."
Oh, and if you wanted a bailout?
You're not going to get one
:
""There is nothing, in my judgment, that we should be doing in terms of guaranteeing market participants against losses or in terms of restraining risk taking," Mr. Paulson said. "One of the natural consequences of the excesses is that some entities will cease to exist.""
You think?
Philly Fed Index came in
at a zero
. That means no expansion in activity. Expanding areas were exactly balanced by contracting ones. No impact on Main Street eh? Uh huh....
Now look guys, I'm gonna talk about something that I'm late on, and fixing as I write this. That is potential insolvency in brokerages. There are a few that are pricing in
insolvency
right now, E*Trade being one of them (ETFC).
Look at their chart!
So - if you have more than $500,000 anywhere in positions, or more than $100,000 in cash,
start spreading it around right now. Do it today, do it tomorrow, but just do it.
While none of these firms is likely to go insolvent
tomorrow
, the risk of one or more of them keeling over is very real.
This risk is not zero, and nobody - I mean nobody - can tell you that it is.Let me stress that I do not EXPECT any of these firms to actually go under, including E*Trade.
But with that said, even with the "private insurance",
your money beyond the SIPC limits is not necessarily safe.
And note that any investment you may hold, other than
physical
bonds, may not be safe either, although ETFs and such that hold Treasuries are about as safe as you're going to get in the "not completely safe" category.
Use your heads guys. While the risk of a total financial markets implosion is not large,
I can no longer completely discount the possibility.
I have no idea how far down this rathole goes, and neither does anyone else. My fear is not the actual losses on the mortgages but the fact that many of these guys have be sitting on ticking $500 billion bombs with alleged swap protection that isn't worth the paper its printed on.
If
that
occurs then literally
any
financial institution is potentially at risk, and any company that has to have access to the capital markets in any form (including short-term commerical paper) could find themselves totally out of business
in a day.
In short, Cash is not just King now, it has been elevated to
God
status.
At least for the moment.
This afternoon? Short covering guys. This is spelled
margin call
and came out of Yenistan. Guess what - that's exactly what you got. The Carry started to get unwound
forcibly
and the result was a huge short-covering rally that ignited the financials and as a consequence the S&P on fire. The Dow got drug along a bit from its representation in there, but the Nasdaq and especially the NDX did not.
Now let's talk a bit about
why
that happened, beyond margin calls. As those of you who trade the options markets know tomorrow is expiration. What many of you who trade
equity
options
do not
know is that
tomorrow morning
index options are priced for expiration via what is called a "Special Opening Quote", or SOQ.
This SOQ prices all the components of the index
at the open tomorrow
and
THAT
is the settlement price for those options. Index options settle for
CASH
since you can't be long or short an actual index (you could all 500 stocks in the S&P, but that'd be kinda silly, so they don't do that); that is, if I sold you a SPX option @ 1500 and
tomorrow morning at the open
all the index components add up to 1425, then I owe you $75 (X 100 for each contract, of course.) The money comes out of my account and goes into yours, settling the next day.
But it is not closing prices that matter, it is OPENING prices
, which means that if you're going to **** with the indices and play arsonist
for index options you needed to do it TODAY.
Now there are of course also options on the Qs, on the SPYs, etc. And for those, they settle just like any other equity option - close of business Friday (they actually expire Saturday but the market is closed Saturday of course) and if exercised or assigned you end up either long or short the equity (ETF, etc.)
For this reason what happened today got some extra "gas"; I noted in a Tick that we were seeing attempts today earlier on but it wasn't taking fire. Well, you got the Margin Clerk behind people banging on their heads
and
a run was made at it, and
BANG
to the upside!
This
does not mean
we will get another one tomorrow,
but you cannot discount the possibility. Take a look at the Qs and SPYs for open interest on both CALLs and PUTs!
There is a
tremendous
amount of money that is going to be thrown over to the buyers of those PUTs tomorrow unless a
MONSTER
rally can be kicked off.
But guys - the big guys play with the indices. They don't play with the Qs and the SPYs, they play with the OEXs, the SPXs and the NDXs. And those are all gone at the open.
Ever notice how a lot of OpEx Fridays after about noon the market quiets down and basically goes flat for the afternoon? Ever wonder
why?
That's the reason - the "smart money" isn't playing in the individual equities and ETF options, they're squared up and flat, and they've gone home - win, lose or draw.
Now what could change it this time? Lots of things. That OI on the Qs and SPYs for one thing. That looks like its going to be verrrrry expensive. Heh, 246,000 contracts X 100 shares X $2.50 (the 48s) is a ****load of money, and someone's gonna have to fork it over! You can bet they're not going to like that idea one little itty bit.
But in order to kick off another of these you've gotta find another place with enough short interest to light something,
and
remember - on the SPYs you need
ten points on the SPX to move the SPYs one!
The big money on the SPYs is at 150! Sorry, I think those guys are just gonna have to pay up, like it or not. Move the SPX up 10? Maybe. But
seventy points?
No ****ing way.
Anyway, there you have it.
I took my Q PUTs off at a nice profit but replaced them with something I could trade after-hours, Nasdaq Futures. We'll see what happens with that; I did not want to risk an OpEx surprise on those.
This isn't over folks. The credit issue isn't over, the Yen issues aren't over, none of this is over. It can't be over here. I mean, c'mon. You got
Countrywide
saying that it tapped $11.5 billion in backup funding lines! Is that going to make it all go away? Nonsense.
But - if you're overloaded here to the point that you're uncomfortable at night? Lighten up.
Second, risk management guys. Seriously. If you go to the forum you'll see that I pinned my "Come to Jesus" posting on the ticker. If you haven't read it yet, please do. If you have, read it again. Then look at your positions and do the intelligent thing.
Hewlett-Packard (HPQ) reported good results and claims they like the following quarter. Dell, on the other hand, is restating results
and apparently is cutting guidance
. So - six of one, half-dozen of the other. How's it wash out? Not entirely sure, but I bet its not all that good.
Could we head north tomorrow? Yep. Its options expiration -
anything
could happen.
What do I expect?
From the charts
the short-covering in the financials appear to have been triggered going into the close, likely due to margin clerks hitting people up as we got into the last hour or so.
So now the quesiton will become,
what do we get overnight?
It could be a lot of nothing, in which case I wouldn't be surprised if some of the rediculous pops that we got today in the financials (12% in Bear Stearns?) get hammered back down. If we get
bad
news overnight, it will get bloody in a hurry.
Of course we might get
good
news of some kind overnight, although I'm not sure what sort of good news we
could
get at this point - and if we do, then I'd expect a run in the morning.
But on a probability basis I expect blood, perhaps a lot of blood, and here's why:
The Yen deal is not over. You're a fool if you think it is. I'm stil short Dollar/Yen and intending to stay there. I have a stop on it in the event I'd seriously wrong, but I don't think so. I expect the Yen will get down to 105 before this is all over. We're a long way from there, and its not just margin calls that actually went out - its also the threat of more of them if you're currently in the clear but warily eyeing the "call" level.


Hedgie Redemption "gotta do it now" notices were due yesterday. Hear anything about that on the news today? Neither did I. Why not? Hmmmmmm.... Why do I think that didn't go well?


Fundamentals. Anything changed? Nope. Builders? Crap. Lenders? Bleeding, drawing down emergency lines. Philly Fed index? Flat. Same-store sales? Deteriorating. Anything to like here? Oh hell no. Any more questions?
By the way, if we do get a run tomorrow north I'm not taking any of my shorts off. In fact, I'm inclined to short into it. Ain't no way this ends well guys and dolls, and ain't no way out of the Carry Box either - except for plenty of these: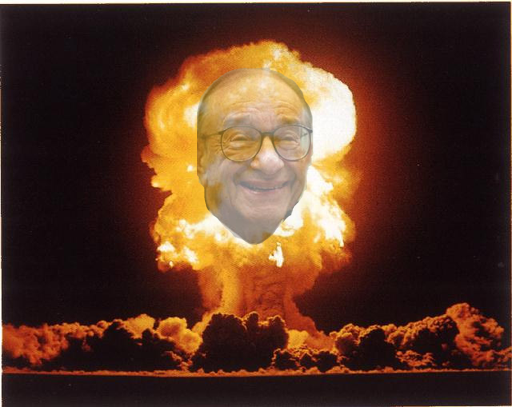 Any questions?
Didn't think so.