Oh oh. I've been prognosticating that
The Dollar would be "the real deal"
for a while.
Guess what?
It is.
There are times I hate being right.
This is one of them.
I love my country. I despise what Paulson and Bernanke have been doing to Main Street.
Rate Cuts will not save housing or the consumer. Neither of those can be saved. Five trillion dollars over the last four years spent by consumers - all phantom income, all "created" by bubblicious asset inflation enabled by systematic fraud.
Now this has to unwind, and it can't be helped.

General Motors fessed up - and it was ugly. I mean, c'mon, $38 billion in charges, or a loss of nearly sixty-nine dollars a share?! Oh my God! To put some context on this that's nearly twice GM's market cap!
But the "real deal" was overnight comments by Chinese officials that basically said "we're done putting up with the capital losses in the FX markets, along with Bernanke and Paulson catering to the fraudsters instead of putting a stop to that crap", along with what sure looked to me like a very intentional "message".
"The message" came in the form of an absolutely enormous "unload" of dollars that came "all at once" - every dollar cross in the FX markets was hit instantaneously. This had the smell of a multi-billion dollar dump - this was not "trader reaction" to news, it was an event all on its own, coupled with the news as a means of underlining "someone's" point.
Bernanke, Paulson and company have been running around thinking that this would all be "orderly." Uh, bad guess guys.
The nasty that followed was the sudden realization in the carry trade bastions that what they've been doing is both unsafe and unsustainable. After the initial spike at 8:30 PM woke people up the carry folks got rattled severely - and started to unwind positions.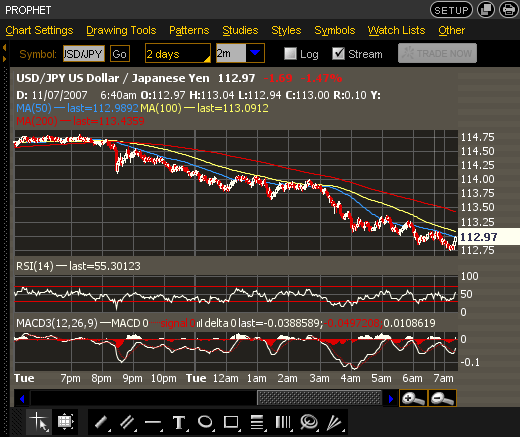 That little "spike" at 8:30 was the warning. The reaction in the market from there has been something else - a steady bleed-off in the Yen/Dollar cross, along with continuing deterioration in all of the other dollar crosses.
The ugly is that we're not just talking about capital losses but now we've got interest rate differentials narrowing so there's little reason for people to hold them!
Yuck, yuck, and more yuck.
Heh Ben! Oh BEEEEEEEEENNNNNNN!
You total IDIOT!
It will be interesting when Congress gets ahold of Ben this time around.
Here's hoping that we can have some HARDBALLS thrown at his nuts - or maybe his head! Enough of this softball nonsense that most of Congress likes to lob towards Master Ben.
And let's not forget our Comrade Paulson. Hank, cut the crap with M-LEC and trying to coddle the Den of Thieves on Wall Street. You need to get out there right now and tell the banks, brokers and others that they need to take their "off balance sheet" games and stuff 'em where the sun doesn't shine, coming clean with both America and investors. That needs to happen right now. If this forces some banks under capital requirements, then so be it - forcibly merge 'em under FDIC authority and flush the bad actors, forcing the executives out into the open where the SEC can have a round or three with them so they can be tried by a jury of their peers.
And who's telling the truth on CNBS? Rick Santelli. He's it when it comes to the truth on the Cheerleader Squad.
Although Haines today put it pretty clearly - $4 gas = recession.
Guess what? You're going to see $4 gasoline by Grinchmas. No doubt about it. We had oil at $60 and gas was higher than it is now. Why? Crack spread compression. That's going to come off, and when it does the gasp you hear will be from drivers who pull into the service station to fill their tanks. We're being buffered from it a bit right now because we're in "shoulder" time for gasoline, when there is still some summer blend gas around and it was refined off the old crude stocks.
Winter blend is all being refined off current delivery, and you can bet prices will be rising. A lot.
Consumer Credit died last month. The wall has been hit. Revolving credit went from 9.3 billion last month to 4.4 this last month, and non-revolving (e.g. cars) went from 6.4 billion to 0.3.
I predicted this back in the spring when the spike started in Credit Card usage. Now credit cards are hitting the wall with "declined" starting to show up more and more often. The "MEW" - Home Equity being grabbed and spent - is over.
The government is finally on it, with NY AG Cuomo getting on the "Subpoena everyone" bandwagon. That he's pointing his gun/pen at Fannie and Freddie is potentially disastrous - especially if he finds something smoking in there. Anyone connected with the fraud had better be warming up their G-IV right now, because this is just the beginning and I predict there will be plenty of perp-walks in the near future.
Don't look at the ABX. Its horrifyingly bad today. So-called "AAA" credit is trading like junk. That's probably because it is....... (Oh, so is the CMBX - if anything, that's worse.)
The "Short Bus" riders were out in force today in the Nasdaq, once again pumping a small handful of stocks. Are you folks in 401ks and IRAs, plus mutual funds, going to wake up? Today we had exactly ONE big momo name up - RIMM.
How long does a stool stay standing with only one remaining leg?
Here is a warning folks - last time this happened, 1999, everyone thought they were smart enough to catch the corner and get the last bit of run out of these stocks. Almost to an individual, those who thought they were smart enough to catch the peak were wrong and got slaughtered by huge gaps down.
PLEASE be smart about this. Earnings projections are coming down, GM just took a huge charge equal to double their market cap, housing is nowhere near a bottom, consumer credit default rates are going up rapidly, and energy prices are skyrocketing while The Fed is cutting rates into a commodity boom to try to "follow" the collapse in credit demand (instead of standing pat or raising and, along with aggressive regulatory action, squeezing out the fraud.)
This is a toxic combination that will blow up in your face. No ifs, ands, buts or maybes.