Give me a break.
Strong rally. All week, basically.
On the basis of what? Another 20, or even 50 bips of rate cuts?
How'd the last two rate cuts do in terms of stimulating the economy and unlocking the credit markets?
THEY HAVE DONE NOTHING BECAUSE THEY CAN'T!
Well, here's reality guys - which was not reported yesterday at all, even though it came out mid-morning
- 3Q Preliminary profits were down 1.2%
, .vs. previous +5.2%.
What
are
you buying when you buy a stock?
You're buying discounted future cash flow and profits, right?
What's that stock worth
if profits are falling?
Who are these people trying to fool?
Psst -
construction spending was down in October.
That includes commercial. Guess what - commercial R/E is not exempt from the problems, and will follow residential down the toilet. Bet on it. I have (got IYR PUTs anyone?)
Let's talk about ETFC - E*Trade Financial. Yesterday Citidel took a big equity stake in them, unloading $3 billion worth of mortgage backed securities - for $800 million.
That's 26 cents on the dollar, as I mark it.
This is actually being
cheered
? I heard a "floor trader" saying so this morning on CNBS. That's ridiculous - or intentionally fraudulent.
If E*Trade's "transaction" is in fact where these mortgages are marked, and represents their real value, every single bank that holds HELOCs and other loans like this is BANKRUPT. BANKRUPT GUYS.BROKE.BUST.KAPUT.DEAD.GONE.DECAYED.DECOMPOSED.
Don't believe me?
Ok.
Pick a bank. Oh, say, WaMu.
Go pull their latest 10Q
. Take their loans "held for investment". Mark 'em down 70% (I'll be nice and give you the extra five percent.)
In WaMu's case, this is $237,132,000,000, or $237 billion; a 70% haircut is $165 billion.
WaMu's "net assets" (assets minus liabilities) are $24 billion.
Think that might be a problem?
Now sure, not all of their portfolio is subject to that haircut. It'd be nice to know exactly what part of it is. But heh, when we're talking about
eight times their net enterprise value, does it really matter much whether its half, one quarter, or even 1/8th of their total portfolio that is subject to that sort of decimation?BANG. They're dead. End of discussion.Now we know why nobody wanted to "mark to market" these alleged "assets".Unfortunately, Citidel just did the deed, and yet the people out in the market are actually BUYING THESE STOCKS!
WaMu opened up
FIFTEEN PERCENT
today.
Are you kidding me?
What the hell are people thinking?
The E*Trade news
should have tanked the DOW by more than 1,000 points!
It was the first
CLEAR
statement of what these loans are worth - the answer is that
the ABX is actually overstating value by a huge margin, as these supposedly were "high quality" loans that were made to people who have significant net worth!
This is
NOT
"subprime" but
the market says they're worth TWENTY SIX CENTS ON THE DOLLAR!
There
IS
a small amount of "mainstream press" attention being paid to this
.
VERY LITTLE. Gee, I wonder why this isn't front page on the WSJ and CNBS hasn't mentioned it at all? Let me guess - most of the large banks of this nation being functionally insolvent isn't news?
Now let's consider that $6.5 trillion of "wealth" has been taken out of houses by consumers over the last four years
and spent.
This is where "Goldilocks" got her money. But that door has slammed shut - the Case-Schiller home price index marked, just this week,
yet another huge decline.
How "real" is this? Well, according to "Zillow",
my home has gone down in value by 8.9% in the last 30 days!
Good thing I didn't spend any of that phantom "wealth" eh?
Yesterday it was disclosed that the Florida SBA - a fund that hold funds on a short-term basis for schools and other municipal organizations - has locked up. Why? They were sold commercial paper issued by SIVs - which now can't roll over. Huge and
very real
losses are being taken and the districts, figuring it out, did what you'd expect - "
he who panics first panics best
".
Facing potential
insolvency
, the fund locked redemptions.
Doesn't that sound familiar? I think some Hedge Funds have done this before, no?
But wait - that's supposed to be
100% safe money - effectively, a money market!
How's
YOUR
money market fund doing?
More importantly, if you call and ask about such things - are you being lied to?YES YOU ARE, IF RECENT HISTORY IS ANY GUIDE!
Are you going to panic best, or panic last (and
truly
panic!)
But it gets better, as they say!
Today Treasury is working a deal to "freeze" some subprime resets, allegedly to try to prevent more defaults. I find it nearly impossible to believe I'm seeing this from
Treasury
, and here's why:
The entire "securitized structure" - the ABX and everything behind it - depends on the credit enhancement from the interest rate spread, and the reset process as loans age.
This is where they get the protection that allows them to rate big parts of these tranches as "AAA".
If you remove that the entire collateral structure collapses. The result of this sort of thing, if it really is what people are claiming it will be, is going to be the following:
The ABX will collapse. All of it. Those who hold these pieces will see their actual realized losses go parabolic. This isn't a matter of models and what people think they're worth any more - now the last piece of rug left, the credit enhancement component, is being ripped out from under them.


You can forget about getting an ARM loan that could potentially be securitized in the future. Ain't gonna happen. There are literally several trillion dollars out there in this stuff, and you can forget about a market for them in the future.
Yeah. Nice. Fixed income investors are going to eat this and then come back for a second bite? Oh yeah, right. You want to lock up the entire mortgage and housing industry?
Sounds good to me! Let's tank all of it and get it over with. That's where we're headed.
Christmas sales? What Christmas sales? Do you believe the claims of 8%+ increases? Been to the Mall in the last week? I have - several times. Guess what - you could walk in and spray an Uzi around without killing anyone. That's how dead it is. Restaurants in the area are singing the same song. They love me, since I'm still eating their food - but all this week, I've been pretty much the only one.

Oh, and "Black Friday" weekend? We drove home past a half-dozen malls Sunday. The parking lots were empty. Sunday night, well, you be the judge - here's one of a dozen pictures I snapped of local retailers on Sunday evening. Yes, there's a timestamp on it, and no, the store wasn't closed (duh):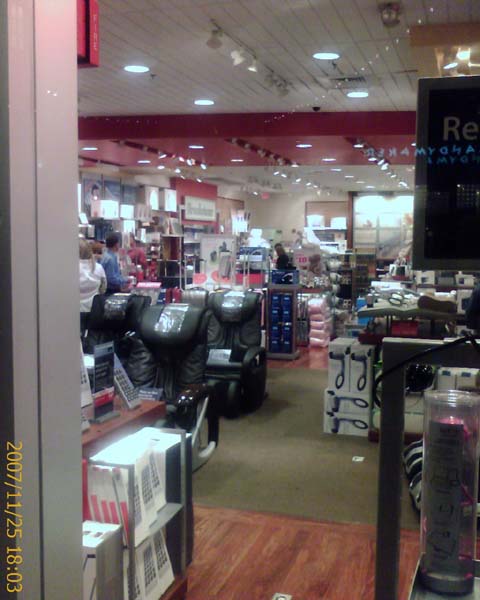 Where are the customers? The only person in that store is the clerk behind the counter!
This is NOT an aberration. In fact, if you head over to the forum in this thread you can look at all of the pictures I snapped.
THE ENTIRE CITY WAS DEAD!
Guys and gals, I live in one of the "richy bitchy" areas of the country. If we're dead the rest of the country has to be in various states of decomposition!
Oh, and anecdotes related to auto sales say that showroom traffic is down 30% in the last month alone. I suspect the numbers early next week are going to suck severely.
The consumer is ok?
Look, the market pumpers want you to go buy stocks. That ought to be obvious. They own a lot of them - too damn many in fact, and need someone to unload them to.
They know what is coming! Did you see Kudlow last night? He, and the rest of his crowd, were clamoring not for a rate cut but for 100 to 150 bips of rate cut - right now!
Why?
Because they know what's coming. A massive recession. Bank failures - lots of them. Perhaps even a DEPRESSION.
But, you sputter, can't The Fed fix this? Save the day? Ride to the rescue?
No, it cannot.
What has to happen?
The Fed needs to step in right now and force all of their "bank customers" to take ALL of their off-balance sheet crap back onto their balance sheet and mark it to the market.
Right now.
Period.
If this forces some of them out of business, then so be it. The FDIC will not fail in this situation, contrary to some of the doomsayers. The FDIC's "formula" is to merge the insolvent organizations, using whatever value is left to make those with under $100,000 in deposits whole, while throwing under the bus the common equity holders, any preferred equity holders, and everyone else who happens to have a putative "claim" on the bank.
This is the only way to fix the problem, and whether Bernanke (and Paulson) like it or not, it is what is going to happen.
Lending will not return to normal until confidence returns and confidence requires transparency and truth. So long as market participants continue to lie and obfuscate, lending will remain locked up. PERIOD!
The only choice is to either force transparency now in a manner that is somewhat controlled or we will continue to spiral downward into the dirt, with the disclosure and cleaning out happening through bankruptcy as we reach the depths of a DEPRESSION.
Yes, I used the "D" word.
If The Fed doesn't quit screwing around and act NOW, we're headed for one.
1930s style.
Ben, wake the hell up. The answer isn't playing with system liquidity.
YOU ARE FIDDLING WHILE ROME BURNS.
The problem is that everyone involved in this mess on the banking and "investment" side has been lying through their teeth. E*Trade is just one example - not two weeks ago their CEO said "we could suffer $1 billion in writedowns and remain well-capitalized", strongly implying that the damage was less than that.
Well, guess what - less than two weeks later they sold $3 billion "worth" of loans for $800 million. That is $2.2 billion in direct losses, or more than double what they claimed their maximum exposure was just two weeks before!
IT IS ALL LIES!
Let's count a few of them:
Treasury (and others) - "Subprime is contained"; "Housing will turn around this year"; "there's no impact on the rest of the economy." All lies.


Bernanke - How many do I need to count? Testimony in front of Congress that is just flat false. How about a contempt citation guys?


CEOs up and down the line. Too many bad press releases to count. AHM anyone? CFC? Projected profits for 4Q? All the investment banks taking writedown after writedown, one after another.


E*Trade, as I noted - "We can absorb more than $1 billion and remain well capitalized", strongly implying that the damage was less than that. Now we find out its $2.2 billion - and we don't know if they're done. I moved my accounts; that proved to be false statement #2; you don't get to bull**** me more than once!
I'm tired of this crap, you should be tired of this crap, and those who are buying this "rally" when every institution that has made claims that they have their exposure under control ends up being shown to be a LIAR as soon as a week or two later, are just plain fooking stupid!
(Oh, and don't look but metals are getting SMASHED today. I told you so.)
Deflation is in our future - the worst-case scenario for anyone in debt. Why?
Because our government is refusing to do its damn job of regulation and has refused to get the handcuffs out and slap 'em on the CEOs and others who have made these insanely-rosy projections and statements, while at the same time encouraging and enabling the hiding of liabilities!
As such confidence has collapsed between parties in the market, and this WILL lead to a collapse in lending and credit - the destruction of money, which is the definition of deflation.
It has already started and is going to get MUCH worse.
If you're in debt and can't get out, you're finished. Sorry; that's how it is.
If you can get out of debt in the next few weeks and months, do so. If you have cash, conserve it. Save. Keep your powder dry. Do not be stupid and listen to people like Cramer who said last night that "cash will be the biggest losing asset class."
Those who believe him are going to suffer ocular penetration by a Stallion - and soon.
Beware.